PP Series Portable Jaw Crusher
PP Series Portable Jaw Crusher adopt the professional mobile crushing technology. They can fully meet customers' different mobile crushing requirements. Compared with the stationary crushing plant, they can greatly reduce the customers' operation cost.
Capacity
50-845t/h
Max feeding size
400-1200mm
Raw materials
River pebbles, rocks (limestone, granite, basalt, diabase, andesite, etc.
Application
Mining, metallurgy, construction, highway, railroad, and water conservancy, etc.
The Outstanding Performance of PP Series Portable Crusher
Great Mobility
PP Series Portable Crushing Plants are of short length. Different crushing equipment is separately installed on a separate mobile chassis. Its short wheelbase and tight turning radius mean they can be transported on highway and moved at crushing sites.
Lower Transportation Cost
PP Series Portable Crushing Plants can crush materials on-site. It is unnecessary to carry the materials from one site and then crush them in another one, which can greatly lower the transporting cost for off-site crushing.
Flexible Configuration and Great Adaptability
According to the different requirements of different crushing process, PP Series Portable Crushing Plants can form the following two processes of "crushing first, screening second" or "screening first, crushing second". The crushing plant can be composed of two-stage plants or three-stage plants. The two-stage plants consists primary crushing plant and secondary crushing plant, while the three-stage plants includes primary crushing plant, secondary crushing plant and tertiary crushing plant, each of which is of high flexibility and can be used individually.
The Design Features of PP Series Portable Crusher
Mobile chassis conforms to the international standards. It has standard lighting and braking system. The chassis is heavy-duty design with big section steel.
The girder of mobile chassis is designed to be U style so that the overall height of the mobile crushing plant is reduced. So the loading cost is reduced greatly.
Adopt hydraulic leg(optional) for lift installation.Hopper adopt unitized design,reduce the transport height greatly.
Features of PP Series Portable Jaw Crusher
High-performance JC Series Jaw Crusher.
Vehicle-mounted feeder and high-intensity vibrating screen of short length, light weight, high mobility, and strong adaptability, which is of flexible combination and reduces transportation costs – whether rough crushing, fine crushing or sand making operations.
Its design philosophy is to fully adapt to the various situations, eliminating barriers of mobile crushing site, environment, basic configuration of the crushing plant
SANME really provides simple, efficient, low-cost rock crushing equipment which is mainly used in metallurgy, chemical industry, building materials, hydroelectric project or other material which is often needed to be relocated ,especially suitable for highway, railway, hydropower engineering project.
Customers can choose various configuration depending on the type of raw materials, scale and requirements of final products. Mobile jaw crusher plant greatly expands the concept of coarse crushing.
PRODUCT DISPLAY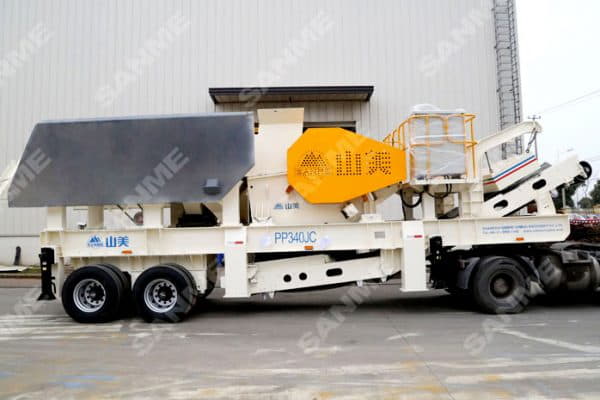 Working principle of PP Series Portable Jaw Crusher
Through the feeder, materials evenly delivered to the crusher. After primary crushing of jaw crusher, a closed system is formed by vibrating screen. Final is discharged by belt conveyor , which is continuous crushing operations. Jaw mobile crusher can remove vibrating screen to realize primary crushing of raw material directly according to the actual production. It can be used with other broken equipment which is easy and flexible to operate.
Applications of PP Series Portable Jaw Crusher
It is widely used in mine, coal mine, waste and construction waste recycling, cubic meter of earth and stone project, urban infrastructure, road and building construction.
It can be used in topsoil and various other materials processing; separation viscous coagulation aggregate; construction and demolition industry; screening after broken; quarrying industry.
It can be adopted to crush cobble, rocks(limestone, granite, basalt, diabase, andesite etc.), ore tailings and sand making of aggregate chips.
Product Data
Technical Data of PP Series Portable Jaw Crusher
PP Series Portable Jaw Crushers
PP231JC
PP340JC
PP440JC
PP443JC
PP549JC
Transport dimensions
Length(mm)
10650
11850
12910
13356
13356
Width(mm)
2550
3170
3120
3259
3259
Height(mm)
3900
3956
4438
4581
4881
Jaw Crusher
Model
JC231
JC340
JC440
JC443
JC549
Feed opening(mm)
510*810
600*1020
760*1020
850*1100
950x1250
Setting range(c.s.s)(mm)
40-150
60-175
70-200
80-125
110-250
Capacity(t/h)
50-250
85-300
120-520
190-670
315-845
Feeder
Model
GZT0932Y
ZSW380*95
ZSW490*110
ZSW490*130
ZSW490*130
Feed hopper volume(m3)
6
7
10
10
10
Belt Conveyor
Model
B800*6.8
B1000*7.5
B1000*7.5
B1200*8.3
B1200*8.3
Magnetic Separator (optional)
RCYD-8
RCYD-10
RCYD-10
RCYD-10
RCYD-10
Side belt Conveyor (optional)
B500*2.7
B500*2.7
B500*2.7
B500*2.7
B500*2.7
Number of Axles
1
2
3
3
4
The crusher capacities listed are based on instantaneous sampling of medium hardness material. The above data are for reference only, please contact our engineers for equipment selection of specific projects.