Shanghai SANME's foreign after-sales service engineer team escorts overseas projects

Recently, the Central Asia granite aggregate production project, which provided complete solutions and complete sets of high-performance crushing and screening equipment by Shanghai SANME Co., Ltd., successfully passed the customer's acceptance and was officially put into production. After the project is put into operation, it will provide high-quality sand and gravel aggregate for local infrastructure construction, which is also a new achievement of Shanghai SANME's active participation in the construction of aggregate projects in countries along the "Belt and Road".
This granite aggregate production project is located in the central region of Central Asia, and the high-quality aggregates produced are mainly used for local highway and infrastructure construction. The high-performance crushing and screening equipment provided by Shanghai SANME for this project includes JC series European jaw crusher, SMS series hydraulic cone crusher, VSI series sand maker, ZSW series, GZG series vibrating feeder, YK series vibrating screen, RCYB series iron separator and B series belt conveyor, etc.
Shanghai SANME Co., Ltd. always adheres to the customer-centric service concept. In the face of the new crown epidemic and the unstable international situation, SANME's domestic and overseas service teams have always adhered to their posts, guarded trust with services, responded to commitments with efficiency, and continuously improved their global customer service capabilities.During the construction of the Zhongya granite aggregate project, Shanghai Shanmei Company took active actions to overcome the difficulties caused by the epidemic, and sent foreign after-sales service engineers to the site in advance to guide and help customers complete the construction. Complete the installation and commissioning of the project 20 days ahead of schedule. The equipment materials are running well, exceeding the expected output, and are well received by customers.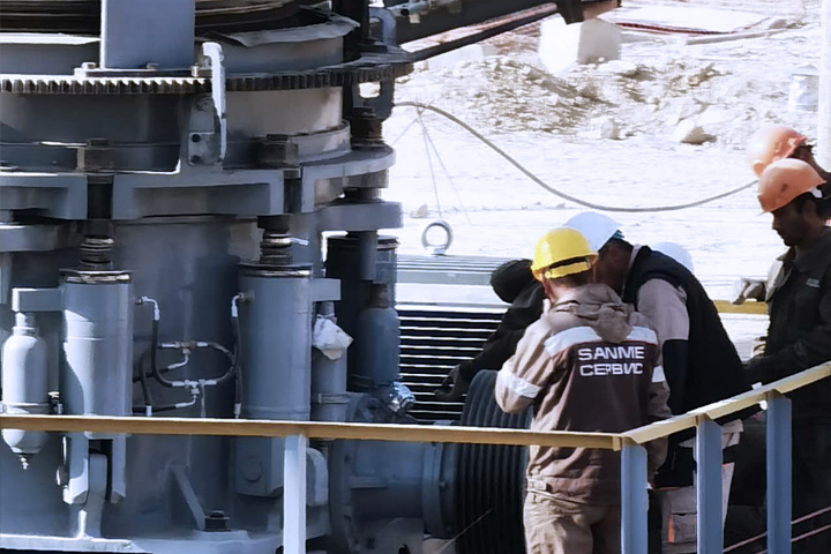 Pictured: SANME foreign after-sales service engineer guides equipment installation

Pictured: The installation site of the Central Asia granite aggregate production project under the night