New Project | 150T/H Granite Wet Process Sand Production Line in Middle of China
150T/H wet process sand production line in Ganzhou is upgraded on the basis of the original granite crushing production line, it adopts SANME wet sand production solutions and complete equipment.
At present, the demand for Manufactured Sand is increasing in the market, and the price has risen sharply. Customers decided to upgrade the original production line, which can effectively increase economic benefits, expand the production of manufactured sand, meet the needs of infrastructure projects.
Introduction:
Capacity: 150 T/H
Output granularity: 0-5mm
Main Equipment: VC7 series sand making machine, SS series fine sand recovery device, XL series sand washing machine, ZK series vibrating screen and YK series vibrating screen, etc.
[Project site display]
VC7 sand making machine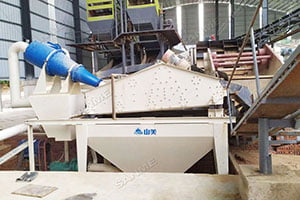 SS series fine sand recovery device XL series sand washing machine
ZK series vibrating screen YK series vibrating screen